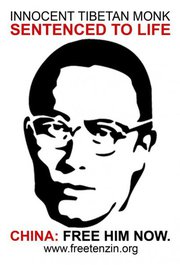 "Since I am a Tibetan, I have always been sincere and devoted to the interests and well-being of Tibetan people. That is the real reason why the Chinese do not like me and framed me."


–

Tenzin Delek Rinpoche, in a statement smuggled out of prison

Today marks 8 years since 28-year old Lobsang Dhondup was executed by the Chinese government for crimes he did not commit.

China's actions shocked the world and prompted strong reaction from many governments and global protests by Tibetans and their supporters. Read an article by Lhadon Tethong (Director of Tibet Action Institute) reflecting on this heinous act by the Chinese government.

Today also marks the 8th year of Tenzin Delek Rinpoche's unjust imprisonment in an unknown Chinese prison in Sichuan Province.
TAKE ACTION: Send a letter to the Liu Qibao, Party Secretary of Sichuan Province, calling for Tenzin Delek's immediate release and for his family to be immediately notified of his whereabouts.

Two years after Lobsang Dhondup's execution, due to sustained international pressure, Tenzin Delek's death sentence was commuted to life imprisonment. Please help keep the pressure on for his release:

https://secure3.convio.net/sft/site/Advocacy?cmd=display&page=UserAction&id=778

Last year, Tibetans from Lithang in eastern Tibet bravely delivered a petition signed by over 40,000 members of Tenzin Delek's community calling for his retrial. Many people on this list also signed a 40,000-signature petition in solidarity with their efforts; the petition was delivered to Zhou Yongkang, CCP Politburo member and the Party Secretary of Sichuan province at the time of Tenzin Delek's arrest. Read more about the petition campaign.

Tibetans inside Tibet have never stopped advocating for Tenzin Delek's release. Together, we can show the Chinese government that the international community supports their efforts and Tenzin Delek's freedom.
Take Action:

Send an appeal letter on Tenzin Delek's behalf.
Change your facebook profile picture to the stylized image of Tenzin Delek (see above).
Print and fax the appeal letter to Zhou Yongkang in Beijing: +86 10 6307 0900
If you haven't yet signed the global petition for Tenzin Delek Rinpoche's release, please sign here.
Spread the word about Tenzin Delek's case among your friends & family.
Your individual actions do make a difference – and have helped to secure the release of Tibetan political prisoners. Together, we can help ensure Tenzin Delek does not have to spend another year in prison.
In solidarity,

Tendor, Kate, Tendolkar, Mary-Kate, Stefanie and all of us here at SFT HQ

Resources:

SFT's campaign website: http://www.studentsforafreetibet.org/freetenzin
Free Tibetan Heroes campaign website: http://www.freetibetanheroes.org/home.php/profiles/tenzin-delek-rinpoche

Profile of Tenzin Delek Rinpoche on SFT's blog: http://blog.studentsforafreetibet.org/2009/02/profiles-in-courage-day-22-february-17th/
Human Rights Report on Tenzin Delek's trial: http://china.hrw.org/timeline/2004/trials_of_a_tibetan_monk