Dear Mike,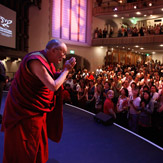 On May 4th, Amnesty International honored His Holiness the

Dalai

Lama at its 50th anniversary event in Los Angeles. During the presentation, I had the opportunity to represent SFT and ask a question on stage.
As His Holiness exited with his entourage, he stopped to speak with a few of us. I held out a

khata

(traditional greeting scarf) and as I greeted him, he held my hands and said, "Don't give up; you all must continue your work. Never lose hope, because change is definitely coming."

He went on to say that in light of the increasing pace of change in China, it is important to work with the Chinese people – writers, intellectuals, artists, the opinion-makers of society.

The previous day, I had spoken at a conference bringing together Chinese dissidents, Tibetan activists, Mongolians,

Uyghurs,

and Taiwanese to discuss opportunities and develop strategies for advancing our respective struggles for freedom, democracy, and human rights.



I explained to His Holiness that our global network was engaging in strategic Chinese outreach by connecting with key democracy advocates, writers, artists, students, lawyers and intellectuals.

He assured me our efforts will make a difference and that change is imminent.

In that moment, I felt the immensity of the work ahead of us, but also had the distinct feeling that victory was inevitable.

With your help we can bring about freedom in Tibet. Please donate today to support SFT's work.

http://sft.convio.net/site/Donation2?df_id=1345&1345.donation=form1

As we build new and strategic alliances, we must continue to challenge China's abuses in Tibet at every turn. I was reminded of this minutes after His Holiness left, when I joined Lobsang, the official

videographer

for the award ceremony.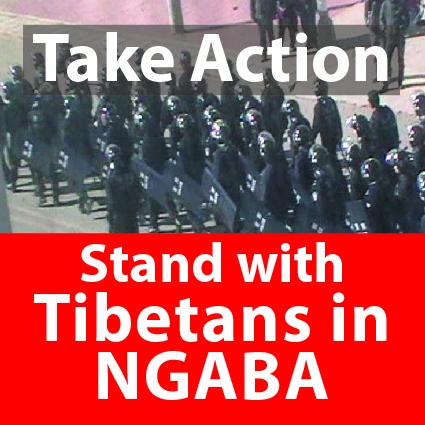 Lobsang is from Ngaba, the county in Amdo, Tibet that is under attack by Chinese security forces. His 15-year-old cousin,

Norbu

, was shot dead by China's armed police on March 16th, 2008 for taking part in a peaceful protest for Tibetan freedom.

Three years after the day

Norbu

was shot,

Phuntsok

Jarutsang

, a 20-year-old monk, lit himself on fire in an act of protest against China's repression, and troops have since laid siege on Kirti monastery.

Thanks to the more than 4,500 people on this list who have taken action, China's crackdown has not gone unnoticed.

Please send a letter now to U.S. Secretary of State, Hillary Clinton and Treasury Secretary Timothy Geithner urging them to raise Tibet and human rights during next week's U.S.-China Strategic & Economic Dialogue.

Please sign now: http://sft.convio.net/site/Advocacy?cmd=display&page=UserAction&id=792

Together, we can ensure that one day soon, people like Lobsang – and all Tibetans – are united with their families and homeland.

Please donate today: http://sft.convio.net/site/Donation2?df_id=1345&1345.donation=form1

Thank you for all you do for Tibet,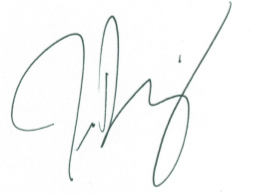 Tenzin Dorjee (Tendor)
Executive Director