Dear
Mike
,
Another town in eastern Tibet is under siege - and your help is urgently needed.
Thousands of Chinese soldiers armed with tanks and cannons have locked down the town of Tawu, and at least three Tibetans have been arbitrarily arrested.
China's attacks closely follow the self-immolation and tragic death of 29-year-old Tibetan monk, Tsewang Norbu, from Nyitso monastery in Tawu County (Ch: Daofu) in Kham, eastern Tibet. All access to and from the monastery is being tightly controlled by armed troops.
TAKE ACTION: Sign the petition demanding an end to China's assault on Tawu and for the release of those detained.
China's leaders are trying to block the world from witnessing its crackdown in Tawu. Help stop the campaign of terror by shining a spotlight of scrutiny on China's top officials. The repression in Tawu must not go unnoticed.
Further Actions You Can Take for Tibet:
The reports of monks trapped and fearing for their safety in Tawu are strikingly similar to calls for help from Kirti monastery in Ngaba earlier this year.

Following the self-immolation of another young monk, Phuntsok Jarutsang,

Chinese troops laid siege on Kirti monastery in April resulting in a month-long standoff with the monks and local residents who peacefully resisted the attack.
Just two days ago, Phuntsok Jarutsang's uncle, also a monk, was sentenced to 11 years' imprisonment. Two other monks also received lengthy prison sentences for trying to protect Phuntsok.
Please take the following actions to
alert your government to China's campaign of terror in eastern Tibet. Your actions can help stop more innocent Tibetans from being targeted. Helpful talking points are included below
.
Call your Embassy in Beijing and politely request your officials to express their grave concern about China's crackdown on Tibetans' basic rights in Tawu and Kirti.


Call your Foreign Minister/Secretary of State's office to alert your government to the urgency of the situation in eastern Tibet, including the harsh sentences handed down to monks from Kirti monastery.

Organize a solidarity protest at the Chinese embassy or consulate nearest you or at a public landmark in your community. Please let us know if you are planning a protest by emailing us at grassroots@studentsforafreetibet.org.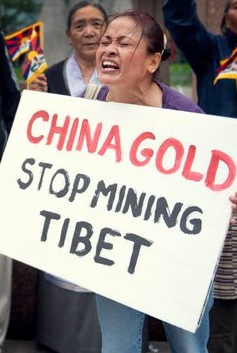 Reminder: Tell the World Gold Council Tibet's Gold is Conflict Gold


Tomorrow, September 1st, is the deadline to submit feedback to the World Gold Council (WGC) on its plans to remove "conflict gold" from the market. The WGC is the leading authority in the gold industry, and its decision presents an opportunity for us to help stop China's exploitation of Tibet's resources.
The WGC has asked for feedback from the public on what standards it should use to certify newly-mined gold as "conflict-free." Let's ensure all gold from Tibet is classified as conflict gold by writing to them today, before the deadline!
TAKE ACTION: Write to the World Gold Council at conflictfreestandards@gold.org. Helpful talking points are included below.
Thank you for taking action for Tibet. Together, we can help ensure the safety and freedom of Tibetans in Tawu and Ngaba and protect Tibet's fragile environment for generations to come.




In hope and solidarity,





Tendor, Kate, TenDolkar, Stef, Liz and all of us here at SFT HQ



---

Helpful points to raise about the situation in Tawu:
Inform officials about the self-immolation of Tsewang Norbu and emphasize your concern that those arrested may be at risk of unjust imprisonment;

Demand the Chinese government immediately release Norbu, Gyaltsen, and the unidentified third Tibetan;


Call for an end to the crackdown, intimidation, and arbitrary arrests of Tibetans in Tawu and the monks at Nyitsto monastery.
Helpful points to raise about the situation in Ngaba:
Inform officials about the sentencing of Lobsang Tsundue, Tsering Tamding and Tenzin of Kirti monastery;

Request they contact the Chinese authorities in Beijing to express their grave concern about the unjust sentencing of these innocent monks;


Request they ask what independent legal representation was made available for those convicted.
Helpful points to raise with the World Gold Council (WGC): Please keep your message respectful as we hope to work with the WGC to get Tibetan gold off the market.
Ask the WGC to categorize Tibet's gold as "conflict gold";
Mineral extraction has increased tensions between Tibetan residents and Chinese miners, resulting in an escalation of human right abuses against Tibetans. Read more: www.stopminingtibet.org
Read more about the situation in Tawu (according to reports compiled from Tibet):
In Tawu, eastern Tibet, following the solo protest of Tsewang Norbu on August 15, thousands of armed Chinese troops entered Tawu county. Three Tibetans from the Tawu region, Norbu from Rinah Lungpa village, Gyaltsen from Nyeshap village, and an unidentified Tibetan were arrested between August 19 and August 22 on unspecified charges. Their current whereabouts remain unknown. Tawu region continues to be under an intense security clampdown.

Read more:
International Campaign for Tibet report: Troops surround monastery as Tibetan monk dies after setting himself on fire & calling for the return of the Dalai Lama to Tibet
Tibetan monk sets himself on fire in China (BBC)
Tibetan monk dies in self-immolation protest, group says (Reuters)
Read more about the situation in Ngaba (according to reports compiled from Tibet):
On August 29, Lobsang Tsundue (also known as Drongdru), uncle and teacher of Phuntsok Jarutsang was sentenced to 11 years in prison after a one-day trial held in the Ngaba TAP Intermediate Court. According to Chinese state media, he was charged with "intentional homicide" for trying to protect his nephew after he lit himself on fire. His whereabouts remain unknown. Two other monks, Tsering Tamding and Tenzin, were sentenced to 13 years and 10 years imprisonment respectively, for "plotting, instigating and assisting" in the self-immolation of Phuntsok. Since Phuntsok's self-immolation, Chinese military and other security personnel have been stationed in the Ngaba area and Kirti monastery has been under lockdown.
U.S. Department of State makes a statement of concern over the sentencing of Lobsang Tsundue
Tibet monk given 11yrs in colleague's immolation (AP)